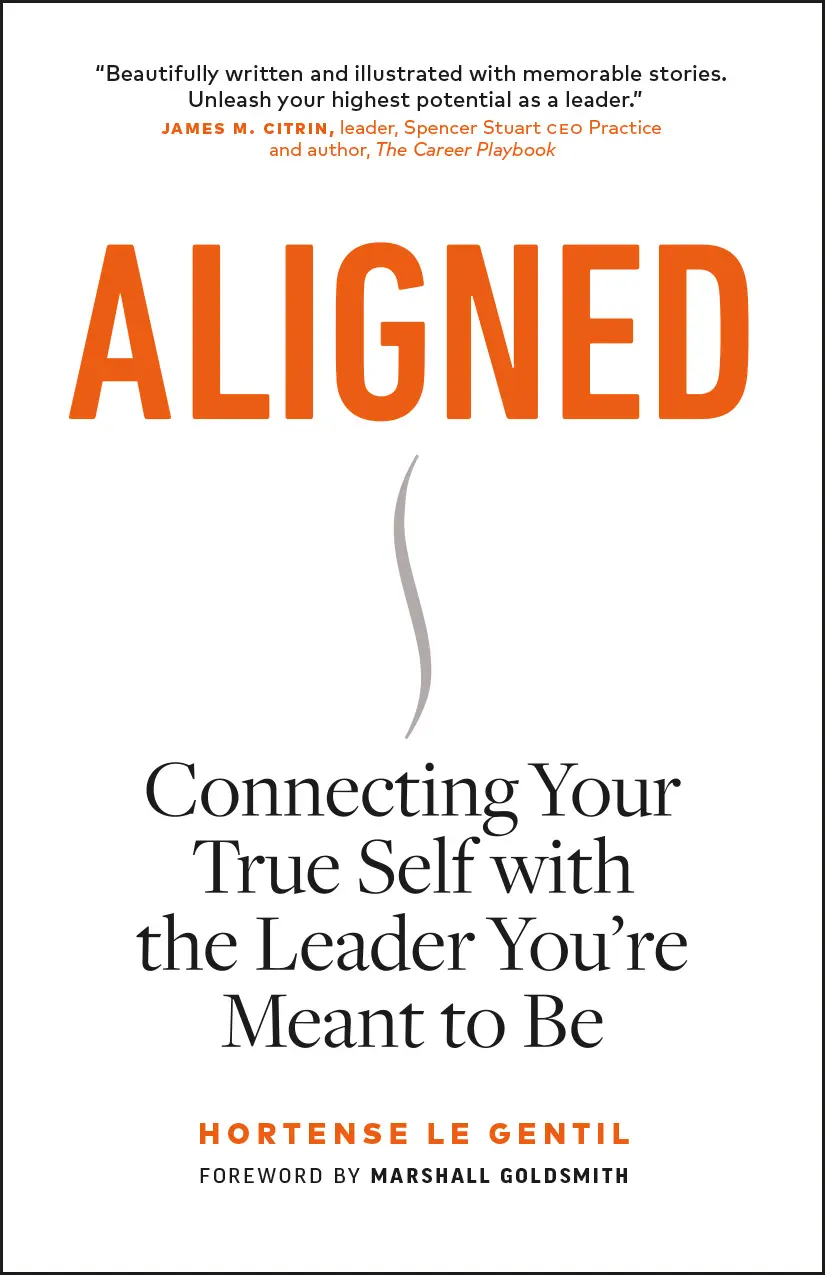 Aligned
Connecting Your True Self with the Leader You're Meant to Be
Have you ever felt like you were on a roll? Time slows, and you see everything clearly. You instinctively know what to do, and have the profound feeling that you are on the right path.
This is what leadership coach Hortense le Gentil calls alignment: the congruence of who you are and what you think, feel, and love on a fundamental level with what you do, say, and envision for your future. It's about becoming more of yourself—and transcending the limits you once thought were holding you back.
Hortense first experienced alignment as a competitive show jumper, realized its wider application in her entrepreneurial career, and fine-tuned its message as a leadership executive coach. Now, in Aligned, she delivers an essential three-part guide for anyone wanting to lead with ease, joy, and impact—and to become even more successful. Alignment helps organizations reach their full potential, and people realize their personal goals.
Alignment does not happen by itself, however. In Aligned, Hortense uses real-life examples to show you how to connect with who you truly are, do the work to become who you want to be, and project your aligned self from your inner world onto the outside one.
Told through the personal and professional victories of her clients, revealing case studies, and Hortense's own journey towards alignment, Aligned is an inspiring and intuitive approach to a concept as enduring as it is momentous.
---
Reviews
"In Aligned, Hortense le Gentil shares with us the incredibly important concept of alignment as it relates to life and leadership, from her perspective as a leadership coach whose work is based on the human dimension of leadership. Hortense shows us how to let go of our restrictions and old beliefs, so we can learn to behave and think differently, align our values with our actions, and learn from past experiences."
"If you want to unleash your full potential as a leader, read Aligned and learn how to focus on the highest value beliefs and actions that will both play to your unique strengths and help you shed the limiting distractions that may be holding you back. Hortense le Gentil is one of the most effective executive coaches in the world. Aligned, which is beautifully written and illustrated with memorable stories, puts le Gentil's exclusive practice into a digestible form that will benefit any motivated professional aspiring to reach their highest potential as a leader."
"In Aligned, Hortense le Gentil leverages her experience as one of the world's foremost executive coaches to take us on a journey to explore who we are, who we want to be, and how to get there. This book is a must-read for anyone who wants to become a better leader."
"This is a beautiful and insightful book. Hortense offers healthy doses of clarity in a form that's easy to swallow. She helps each of us find and hold onto our truths, even when chaos swirls around us."
MORE
"In Aligned, Hortense le Gentil offers a set of practical tools, approaches, and stories to help you unleash your potential as a leader—through your own alignment—and the potential of the organization you lead—through an 'alignment of alignments.' One of the best leadership books I have ever read."
LESS
---
---
ISBN
978-1-989025-90-1
$19.95
CAD
•
$16.95
USD
Published October 2, 2019
5.5 × 8.5
•
232
Pages
Paperback, ebook