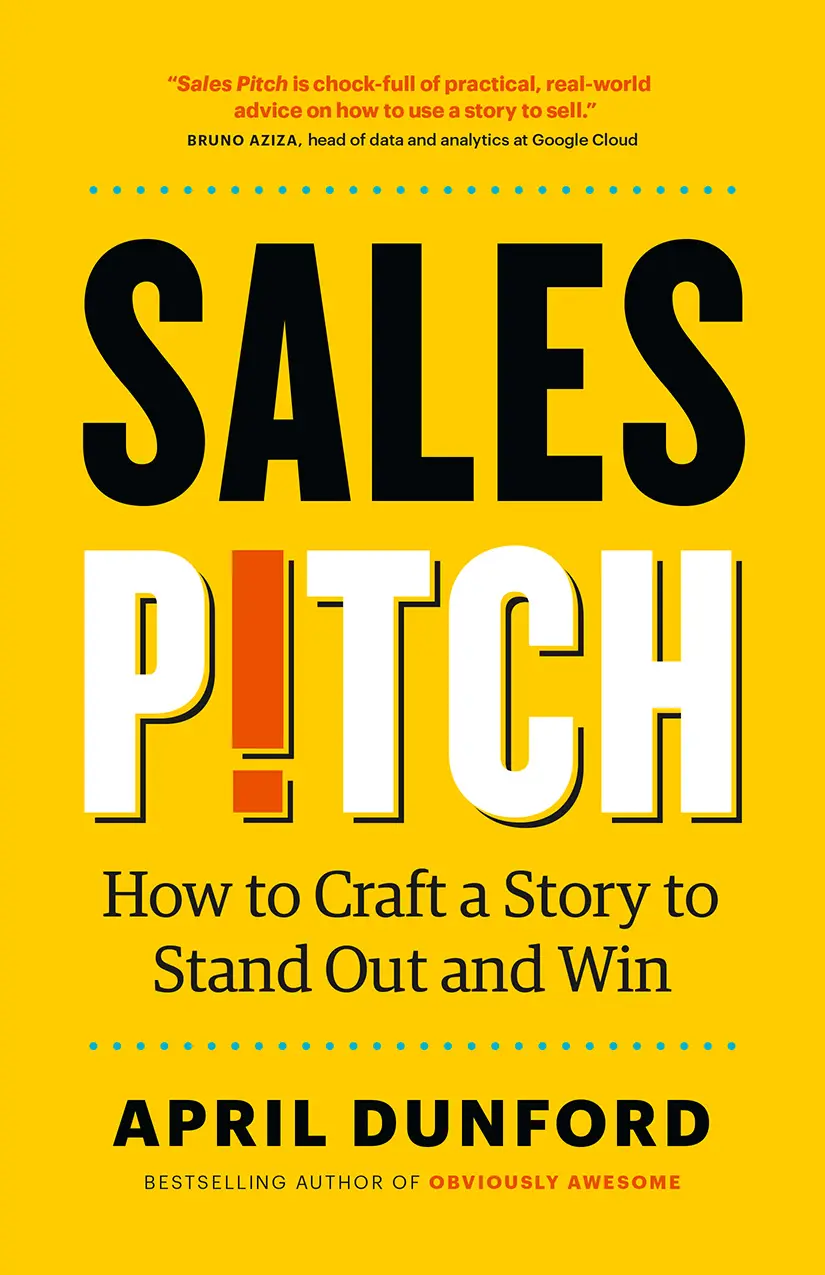 Sales Pitch
How to Craft a Story to Stand Out and Win
Craft a sales pitch that dramatically outperforms an aimless feature walkthrough.
World-renowned product positioning and marketing expert April Dunford knows that standing out in a crowded market is the key to getting sales. In Sales Pitch, she shows entrepreneurs, salespeople, marketers, and business leaders how they can achieve success by building a narrative that clearly communicates how your product is different and better than anything else on the market.
Using a simple step-by-step method and compelling case stories, the author of Obviously Awesome guides you through a solid sales pitch structure that helps customers make confident buying decisions, while positioning you to clearly win in the market. In this book you will learn:
● Why you need to be your prospect's guide in the buying process
● Why a sales pitch is a unique style of story designed to help your customer say "yes" with confidence
● How "do nothing" is the most fearsome competitor you have
● How and when qualification, discovery, and product demos fit into a sales pitch
● How your positioning is reflected in a great sales narrative
● Why your differentiated value is the star of the show
● The eight components of a solid sales pitch
A successful sales pitch is more than a simple product walkthrough, a canned set of discovery questions, or a pushy sales monologue. This book will help you create a winning pitch that gets you better customers—and more of them.
---
Reviews
"This book is chock-full of practical, real-world advice on how to use a story to sell. A must-read for teams who want to scale and outperform!"
"April Dunford is the best of what is out there—and adding her special sauce. If you're going to read a sales book, read this one. And if you're going to read a strategy book, read this one. I recommend this book for leaders across the organization, including the C-suite. Like April's broader positioning work, Sales Pitch is about more than sales or marketing. It gets to the heart of a company's strategy and the various interdependencies that need to be in place for great positioning and then sales to work."
"Working with April Dunford taught our company why positioning is important and how to actually do it. April's workshop taught us why customers can be oblivious to the qualities of your product if you don't speak the right language. I have gifted and recommended Obviously Awesome to many people, and I am sure I will be doing the same for Sales Pitch as well!"
MORE
"In Obviously Awesome, April Dunford offered a new way to think about positioning and the tools to do it yourself. In Sales Pitch, she has done it again—this time challenging how you think about pitching and making sure you're equipped to create your own compelling product proposition."
"If you're a B2B marketer and you haven't read April Dunford's books, where have you been? After her Obviously Awesome tour de force, April goes straight to where positioning gets really real: the sales pitch. With clear explanations and a dash of wit, April teaches us not only how to structure a winning pitch, but how to drive alignment within our organization as the pitch is built. Sales Pitch is a high-ROI buy."
LESS
---
---
ISBN
978-1-9990230-2-7
$21.95
CAD
•
$17.95
USD
Published October 4, 2023
5.5 × 8.5
•
236
Pages
paperback, ebook, audiobook