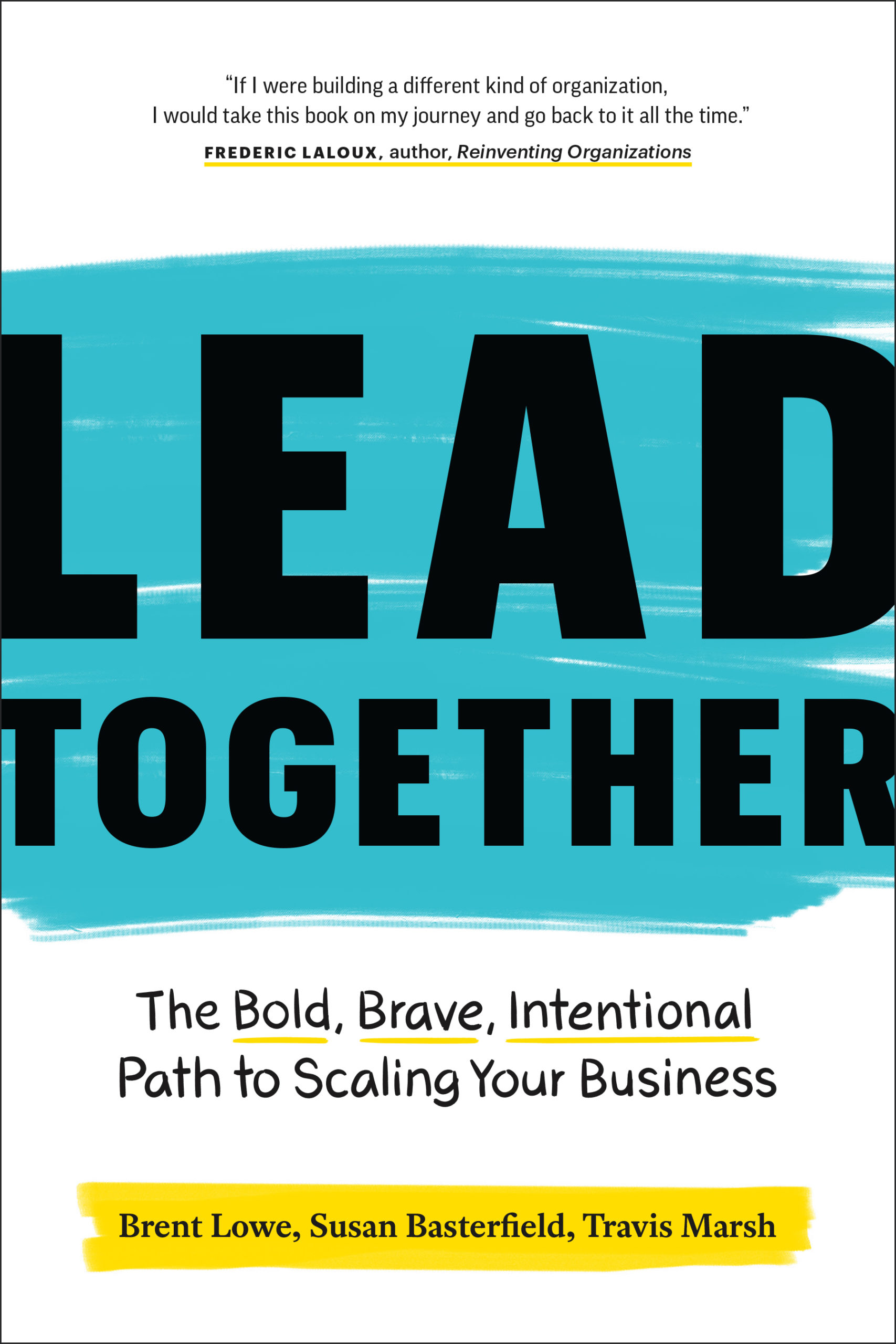 Lead Together
The Bold, Brave, Intentional Path to Scaling Your Business
It's time we started building businesses differently.
Despite the advent of disruptive technologies that have upended the business landscape, the structure of most companies remains largely unchanged, with traditional top-down leadership still the norm. Could there be a better way to organize work that reflects our modern world—one with nimble, invested leaders rather than disengaged, disinterested employees?
The answer is yes! In Lead Together, authors Brent Lowe, Susan Basterfield, and Travis Marsh offer founders, CEOs, and other leaders a radical new way of working and scaling a business. Lead Together teaches you key principles and proven methods to transform top-down leadership into dynamic  human systems of shared responsibility and accountability, through the concepts of self-organizing and self-management. You'll hear from the leaders of more than sixty scaling businesses at the vanguard of this movement about the on-the-ground challenges and rewards of adopting a new paradigm for work.
---
Reviews
"If I were building a different kind of organization, I would take this book on my journey and go back to it all the time."
"The authors bring such an ethical framework to commerce that 'business' no longer has to be considered a dirty word. This is twenty-first-century thinking, in which 'scale' no longer means growing your business as big as possible, but—like any living thing—as vibrant and vital as it can manifest."
"Many leaders live the values underlying this boldly collaborative way of being. Yet we still enact 'old' ways of operating our businesses for lack of new, values-aligned patterns. Lead Together provides those patterns."
"Who knew that joy could be a serious pursuit of business leadership? Or that hierarchy isn't the best way to build a strong, adaptable team? You did. You always knew there was a better way. Now you have a great book to show you how others have done it. More importantly, Lead Together authors Brent Lowe, Susan Basterfield, and Travis Marsh share their collective wisdom and give you ample reflection moments so you can unleash the change agent burning inside of you. Get reading, start changing!"
MORE
"There is a growing community of leaders who desire to fulfill bold purposes beyond the goals of traditional business. These leaders see the need to shift business norms, assumptions, and patterns. Lead Together offers concrete, practical, hands-on approaches for enacting this shift, and is an essential resource for every leader who believes the world is ready for and in need of businesses that are a force for good."
"Ahhh, the authors pull back the curtain on a dream coming true. No-holds-barred, Lead Together urges us to include all voices in organizing and managing our work now. Without glossing over any of the transformational challenges, we are guided along a path to distribute more freedom and more accountability to every person. Festooned with practical advice, short chapters illuminate how to scale this work up and out. The focus on leaders learning how to be in charge but not in control is particularly useful. This is a perfect moment for Lead Together to inspire deeper change."
LESS
---
---
ISBN
978-1-77458-016-5
$19.95
CAD
•
$16.95
USD
Published November 12, 2020
6 × 9
•
372
Pages
Paperback, ebook, audiobook