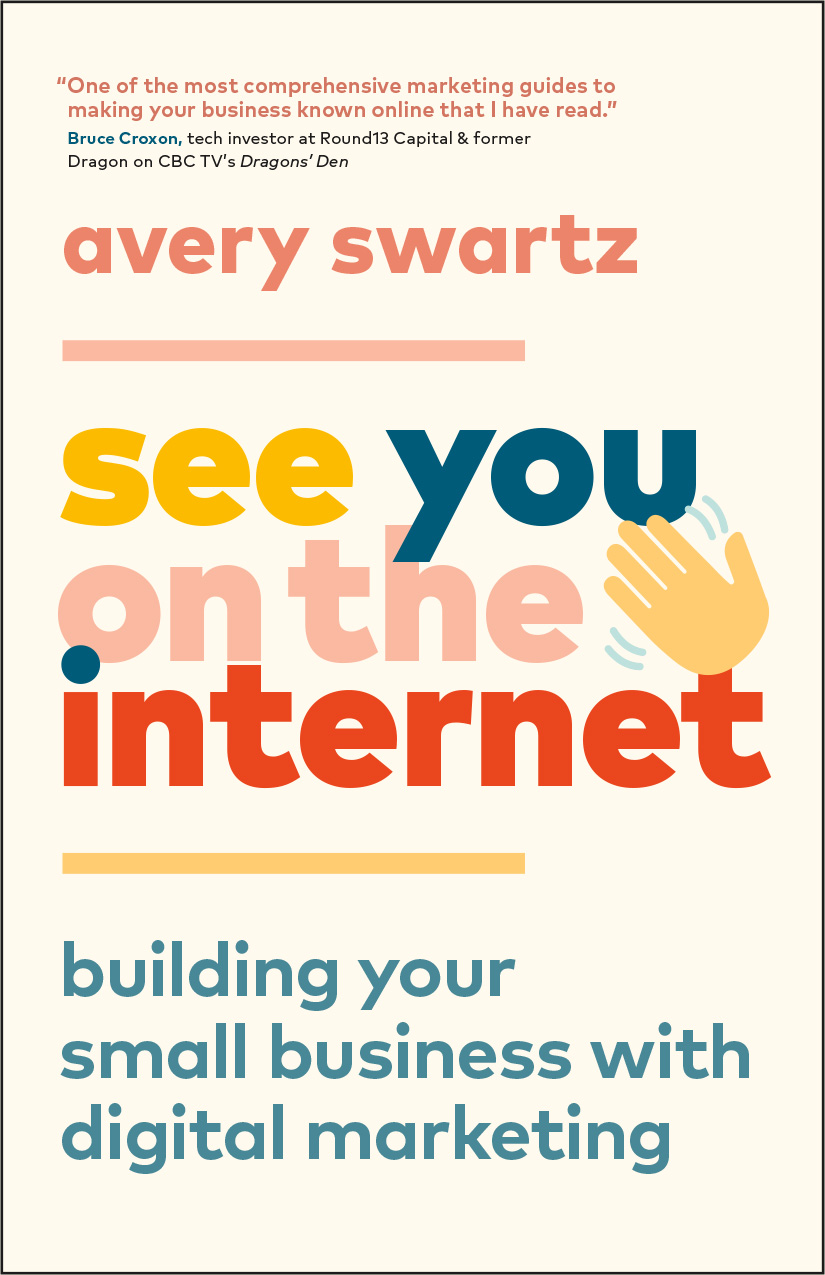 See You on the Internet
Building Your Small Business with Digital Marketing
The proven, frustration-free way to make your business stand out online, from one of North America's leaders on digital marketing for small businesses.
Today, you can launch a website, create social media accounts, and sell on the world's most powerful sales platforms in a matter of hours. But marketing your small business—that requires careful planning. In See You on the Internet, Avery Swartz, one of North America's top tech leaders, delivers a fail-safe framework to plan and execute a brilliant digital marketing strategy with confidence. And you don't need a technical background to follow it. In five simple steps, you'll learn to build your brand, increase your customers, and generate more revenue.
Avery Swartz has spent fourteen years on the ground working directly with hundreds of clients as a web designer, instructor, consultant, and digital advisor. With the aid of real-life stories and examples, she will guide you through the ins and outs of website development, ecommerce, search engine optimization, social media, email marketing, and online advertising—and she'll show you how to track all of your results. Clear, friendly, and highly usable, See You on the Internet is the essential small business handbook for thriving in the digital world.
---
Reviews
"One of the most comprehensive marketing guides to making your business known online that I have read. Highly recommended."
"I've read a lot of business books, but this one takes the cake. See You on the Internet is 200 pages of pure gold filled with actionable steps I can implement in my business—today. It's an absolute must-read."
"Understanding how digital marketing and media works is now more critical than ever before. In this book, Avery Swartz cuts through the acronyms and technical jargon, takes you by the hand, and guides you through the key concepts in an easy and accessible manner."
"I loved that reading the book felt like sitting down with Avery Swartz in person and being guided through the process. This book and its resources are exactly what entrepreneurs need to know about digital marketing, all in one accessible and practical place."
MORE
"A fun and accessible approach to digital marketing. Whether you're a complete beginner or years into running your own business, See You on the Internet uncovers the foundations of digital marketing that will grow with you and your business even as the technology evolves."
"Your one-stop digital marketing shop! Easy to digest and practical AF. I wish a guide like this existed when I started my business."
"This is the book I wish every one of my clients (business owners) would read. It's full of easy-to-digest, practical information that situates the reader not just in what to do with their digital marketing, but also in how to think strategically about what they are doing. The conversational tone, real-world advice, and simple exercises make See You on the Internet an invaluable tool for every entrepreneur."
"I have run global marketing for some of the biggest and brightest start-ups. The complex landscape of digital marketing can make it hard to know where to start. See You on the Internet is a practical guide that walks you through a custom plan that's right for your business."
LESS
---
---
ISBN
978-1-989603-08-6
$21.95
CAD
•
$15.95
USD
Published March 10, 2020
5.5 × 8.5
•
216
Pages
Paperback, ebook, audiobook