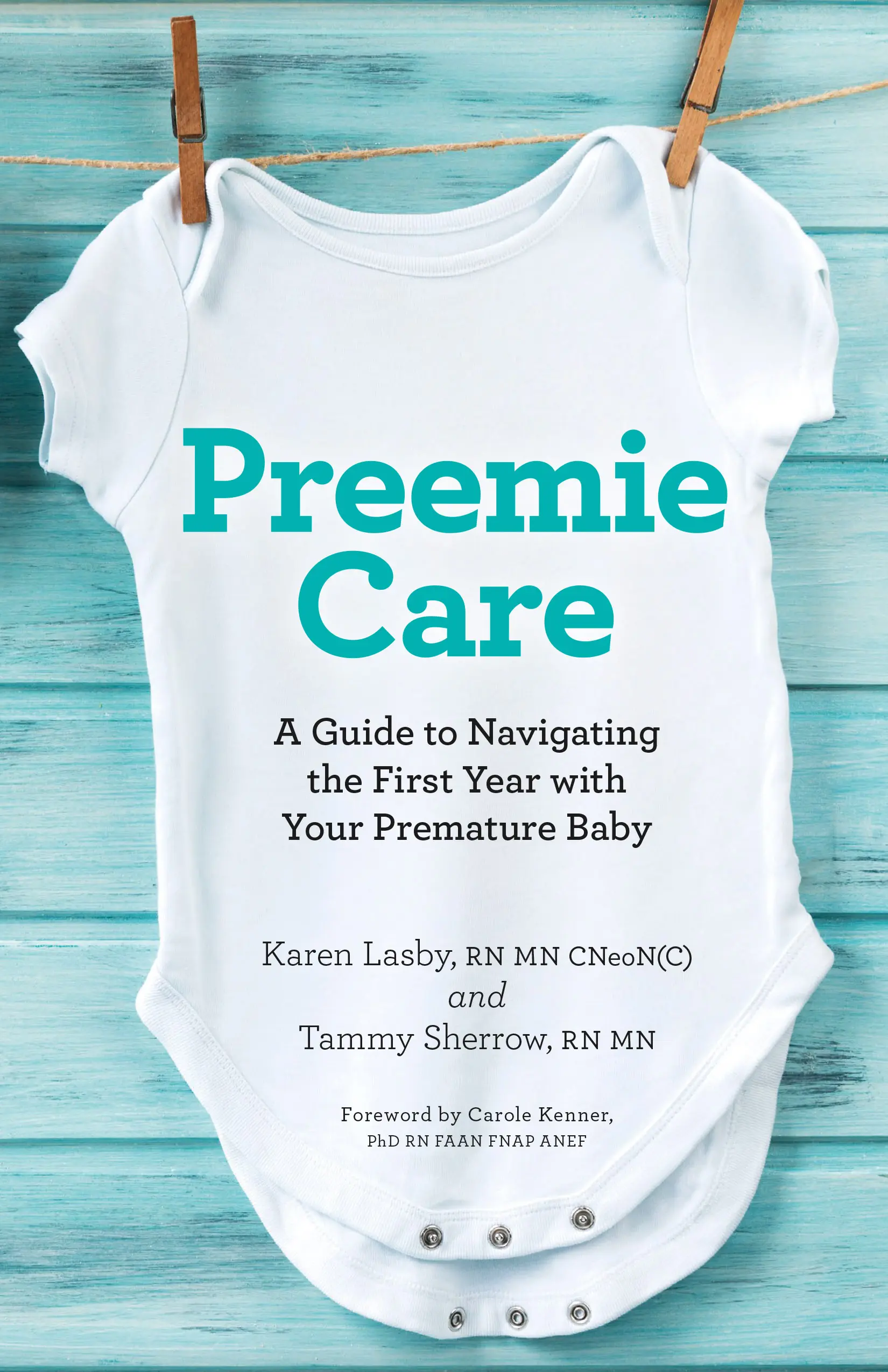 Preemie Care
A Guide to Navigating the First Year with Your Premature Baby
An essential resource for parents of premature babies
The birth of a new baby is a time full of joy and wonder. But when your baby is born premature, that joy also comes with stresses and challenges.
Written for parents, but full of practical advice for health care professionals alike, Preemie Care helps ease the unique preemie journey to health, with a comprehensive guide to the first year of life. Leading neonatal nurse specialists Karen Lasby, RN MN CNeoN(C), and Tammy Sherrow, RN MN, draw on their decades of experience, empowering you with the knowledge and resources to give your little one the best possible start in life—in the NICU and beyond.
In Preemie Care, you will learn:
How to care for yourself and your baby while in the NICU
What to expect at the time of discharge, and how to prepare for the journey home
Strategies to foster your baby's health and prevent illness
Everything you need to know about feeding—from the breast, bottle, tube, and spoon
How to support and stimulate your baby at each key developmental phase
Tips for self-care during this challenging year
And much, much more, including stories from other preemie parents
Having a premature baby can feel like an unexpected journey on rough seas. With extensive and up-to-date information about how to look after your little one, Preemie Care will be a life preserver through these tumultuous waters and will help steer you confidently through the first year of your baby's life.
---
Reviews
"Karen Lasby and Tammy Sherrow have produced an incredible resource—a go-to reference for families experiencing the birth of a preemie. The intimate vignettes from those who have walked this path will be of great comfort to preemie parents. I highly recommend this book to anyone who needs clarity on their journey through the NICU and support in the transition home."
"This book is a must-have for every preemie parent preparing for discharge from the NICU. Too many of us have walked the halls in those final days and hours prior to discharge, wishing we could bring home one of our nurses. This is a great way to do exactly that. Well done!"
"Having a premature baby is a life-changing experience full of fear, stress, and uncertainty. Written by two highly experienced NICU nurses, Preemie Care provides a lifeline to guide parents through this challenging journey."
"In the NICU nurse's toolbox, this book will be an excellent resource to offer parents, providing them the opportunity to explore what they'll encounter during and after their NICU stay; describing the NICU environment and a typical preemie's medical journey; and giving practical tips for healthy coping. Fellow NICU colleagues will applaud them both for meeting this need and supporting our families."
MORE
"This is a very comprehensive, practical book filled with advice for all who care for NICU babies. With their wealth of training and unique experiences, Karen Lasby and Tammy Sherrow have provided the most important information around the NICU stay and the time beyond the NICU doors. They present complex information in a straightforward and personable way. As an NICU physician for more than forty years, I have heard many families and colleagues ask questions that are clearly answered and explained in this book."
"This book is just what parents have been waiting for to support their transition home from the NICU. It provides answers to questions that many parents may not think to ask themselves. I highly recommend Preemie Care to all NICU parents."
"As a neonatal nurse practitioner, I help coordinate very complicated discharges as these very fragile babies go home with their families for the first time. Despite weeks of preparation and hours of practice, these parents often voice how overwhelming it feels on the day of discharge. Preemie Care will be an invaluable resource for families as they navigate that first complicated year."
"A powerful, well-written book with heartfelt stories and excellent data from incredibly educated authors. This is a must-read for any parent or family member dealing with a NICU experience. This book brought tears to our eyes, as nothing is off limits and the content is raw and invaluable."
"After reading Preemie Care, I am more confident. This book has taught me about everything I need to know when my baby comes home and while still in the NICU. One of the most interesting things this book reminded me is to take care of myself, which I had completely forgotten. Being a first-time mom of a twenty-five-weeker, Preemie Care was my life saver. One handy source to all my worries as a preemie mom."
"This book is an amazing tool for your first year with your preemie. If you can't have Karen Lasby or Tammy Sherrow in your home every week, this is the next best thing."
"Leaving the NICU we had no experience with taking care of a baby, much less a preemie. This book wasn't available at that time, but it would have made a huge difference, because it is imbued with the patience and knowledge of its authors and gives so much information about what to expect and what to do in order to take care of your little one."
"This book simplifies the overwhelming and complicated world parents face when they have NICU babies. Using simple language, Karen Lasby and Tammy Sherrow give parents a step-by-step guide from the moment their premature baby is born to the end of the first year at home. It addresses the challenges and also reminds us to celebrate the miracle of life. It's the book every preemie parent has been waiting for."
"As a parent with a baby who's currently in the NICU, this book has given me an inside look into what to expect as we progress through the NICU, as well as the confidence and knowledge to handle any challenges that might arise when I finally get to bring my sweet baby home. An absolute must-read for preemie parenthood!"
LESS
---
---
ISBN
978-1-9990443-0-5
$24.00
CAD
•
$18.00
USD
Published April 2, 2019
7 × 10
•
314
Pages
Paperback, ebook